August 21, 2017
Posted by:

Lloyd Skinner

Category:

BCS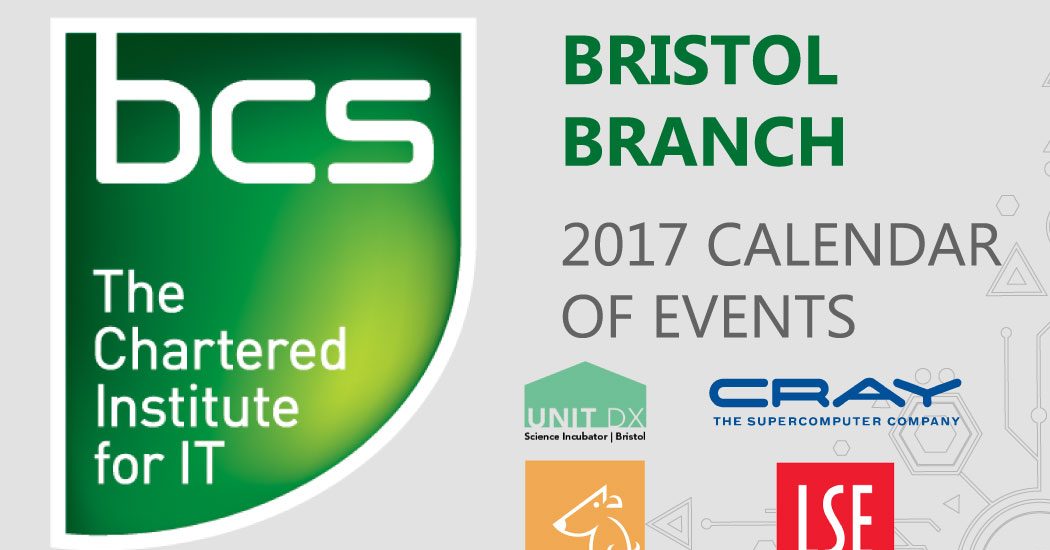 BCS, The Chartered Institute for IT, is "committed to making IT good for society.  We use the power of our network to bring about positive, tangible change.
After the success of the first 4 talks from the 2017 programme card we are pleased to announce Talk 5.  The talks continue the theme of "of now" technology subject matters and examine the increasing careful balance required between "freedom and efficiency" that modern technology provides to us.
The focus of Talk 5 will be on Super Computing and will take place on Wednesday 27th September at the Unit DX in Bristol.  This talk will be delivered by three representatives with varied experiences. Tony Ford (Cray), Professor Edgar Whitley (London School Economics (LSE)) and Simon Ponsford (CTO at YellowDog).  Their brief biographies can be found below.
The talks will be based around Technology Infrastructure with Tony providing as an insight into the scalability metrics that are important for supercomputer systems today and increasingly so for upcoming systems, Edgar will draw on his research to explore why companies might want to move to a cloud model of computing and highlight some of the challenges of manging the organisational transformation such a shift would involve and finally Simon will examine "How to render the latest blockbuster in an afternoon".
The session will run from 7-9pm, with an hour of talks from our panel, followed by Q&A, with networking and drinks to finish.
The event is free of charge, but will require registration to ensure there are no capacity restrictions.
The BCS talks are scheduled to be held in various locations throughout Bristol, where the majority of members are located.  The talks aim to appeal to both existing and new members, young and old, and broadly technical and non-technical.  Future topics are likely to be Blockchain and not forgetting VR!
I do hope you can attend the talk – please register using the following link
http://www.bristol.bcs.org.uk/?q=event/new
Any queries, please contact Lloyd Skinner at [email protected]
Speakers Biogs:
Tony Ford – Director of Engineering, Advanced Technology R&D, Cray Inc.
Cray Inc. is an American supercomputer manufacturer headquartered in Seattle, Washington.  It also manufactures systems for data storage and analytics.  Many Cray supercomputer systems are listed in the top 10 of TOP500 list, which ranks the most powerful supercomputers in the world.  Tony has over 30 years in High-Performance Computing, delivering leading technology to some of the world's most demanding customers. In addition to operational & engineering leadership, experience includes scalable system architecture, engineering design and development, covering many aspects of high performance computing and infrastructure technology.
Professor Edgar Whitley
Edgar is an Associate Professor (Reader) in Information Systems in the Department of Management at the London School of Economics and Political Science.
Edgar has a BSc (Econ) and PhD in Information Systems, both from the LSE.  He is the co-editor of Information Technology and People and Senior Editor for the Journal of Information Technology.  Edgar was the research coordinator of the influential LSE Identity Project on the UK's proposals to introduce biometric identity cards; proposals that were scrapped following the 2010 General Election.  Cloud computing is another of Edgar's research interests, with recent publications including the book "Moving to the cloud corporation" (Palgrave 2014) with Leslie Willcocks and Will Venters,  A Critical Review of Cloud Computing: Researching Desires and Realities" (JIT 2012) with Will Venters and "Cloud Sourcing and Innovation: Slow Train Coming? A Composite Research Study" which won the Strategic Outsourcing Journal Best Paper award in 2014.
Simon Ponsford CTO YellowDog Ltd.
Simon is widely recognised as a leading expert in datacentre automation, green IT, backup and disaster recovery, Simon has held senior positions in some of the World's leading datacentre providers, software companies and disaster recovery service providers.  He speaks regularly on datacentre technologies, data security and energy efficient computing at industry conferences and leading academic institutions.  Simon has been involved in several start-ups across Europe and North America including Cranberry in the UK where he was CEO and CIO at Flexion Systems in California.  Simon is passionate about delivering 'green' technology and is best known for designing the world's lowest powered Windows PC in 2008.  He is also responsible for KumoWatt, the leading training programme for IT professionals interested in reducing the carbon impact of what they do.  In addition to his extensive technical knowledge, Simon is experienced in managing technology businesses and running software development teams.