May 28, 2019
Posted by:

Lloyd Skinner

Category:

BCS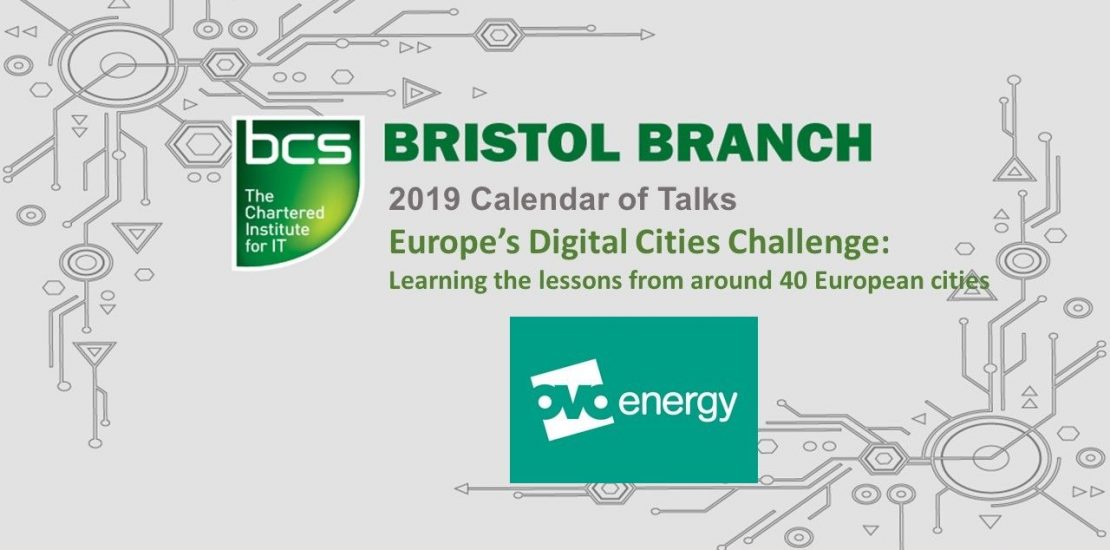 Registration 6.45pm @ OVO Energy Ltd. 1 Rivergate Temple Quay, Bristol BS1 6ED
After the success of previous talks, we are pleased to announce a further BCS Talk. BCS, The Chartered Institute for IT, is committed to making IT good for society.  We use the power of our network to bring about positive, tangible change. This talk is supported by OVO Energy Ltd. and will explore Europe's Digital Cities Challenge and look at what lessons can be learnt from around 40 European cities.
The talk will focus on How these cities are using digital technologies such as Artificial Intelligence, data analytics, Internet of Things and blockchain to promote and support smart, sustainable and inclusive growth and tackle economic, environmental and social challenges.
This talk will be delivered by John Higgins CBE.  John Higgins has been the public face of the digital sector in Europe since November 2011 and speaks regularly on platforms and at conferences throughout Europe and beyond.  He was Director General of DIGITALEUROPE, the association for the digital technology industry in Europe, until April 2017, following nine years leading its UK member association, Intellect, now TechUK.  In spring of 2017 he became Chair of the Global Digital Foundation and a Senior Advisor to global communications company, Burson Cohn & Wolfe.  He continues to chair DIGITALEUROPE's Brexit Advisory Council and is chair of the University of Warwick's European Advisory Board.
The session will start with registration at 6.45pm, with pre-talk networking and refreshments, talk starting at 7.30pm, lasting approx. 45mins, followed by Q&A, with time allowing further networking and drinks to finish by c.9pm. More details on the talks can be found on the Bristol BCS website.
The event is free of charge, but will require registration to ensure there are no capacity restrictions.  The BCS talks are scheduled to be held in various locations throughout Bristol, where the majority of members are located.  The talks aim to appeal to both existing and new members, young and old, and broadly technical and non-technical. The content of future topics are being investigated based on feedback from previous events and we are open to talk volunteers.
I do hope you can attend the talk – please register using the following link:
https://bcsbristol200619.eventbrite.co.uk 
Any queries, please contact Lloyd Skinner at [email protected]
Speakers Biogs: JOHN HIGGINS CBE
In 1995 he was appointed CEO of the Rocket Networks, a California based dot.com that provided the world's first online recording studios. He returned to the UK in 1998 and became Director General of the Computing Services and Software Association, one of Tech UK's predecessors. He holds a degree in Mathematics from the University of East Anglia and then a post graduate Diploma in Accounting and Finance. Early in his career he trained as a systems analyst, held senior positions with Ernst & Young and worked in Chicago with leading software company SSA.
John was President of the European Commission's Strategic Policy Forum (SPF) on Digital Entrepreneurship. The SPF was facilitated by DG Grow for almost three years and examined the current and future impact of new digital technologies such as Artificial Intelligence on important sectors of the European economy and society such as automotive, healthcare, SMEs and social enterprise. The SPF was supported with extensive research from consultants such as PwC and EY.
John was also a Board member of the European Internet Forum. John's other committee chair roles have included the audit committee at the University of Warwick, the cross industry association council of the CBI, a government/industry space committee and the global policy action committee of the World IT Services Association, WITSA. He was a board member of e-skills, the UK's digital sector skills council and is a Fellow of the Royal Society of Arts.
He was presented with two personal awards for outstanding contributions; first to the association sector in 2004 and then to the IT industry in 2008. The Queen appointed him a Commander of the British Empire (CBE) in 2005 for his services to the UK IT industry. John lives in Bath in the UK with his wife Ailsa. They have three adult daughters.