October 9, 2017
Posted by:

Lloyd Skinner

Categories:

BCS, VR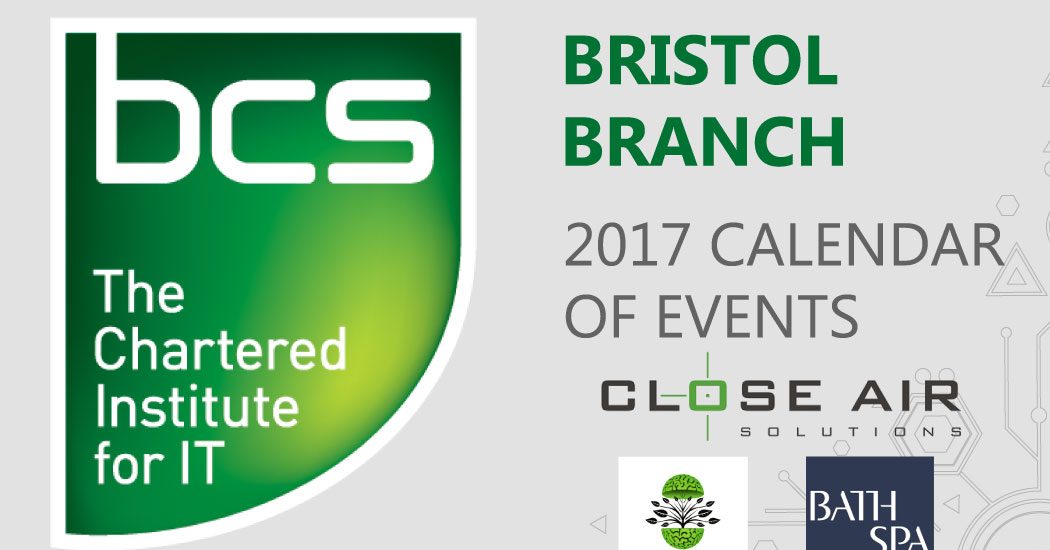 BCS, The Chartered Institute for IT, is "committed to making IT good for society.  We use the power of our network to bring about positive, tangible change."
We had a good turnout for Talk 5 of our 2017 programme card, with Tony Ford (Cray), Professor Edgar Whitley (London School Economics (LSE)) and Simon Ponsford (CTO at YellowDog) sharing some interesting insights on the current and future state of Super Computing. A big thank you to Unit DX for hosting the event too – what a wonderful venue!
We're pleased to announce Talk 6 of the 2017 BCS Talk series which will centre on the phenomenon of VR & The Evolution of Military Gaming. This will take place at the Bristol & Bath Science park on the 22nd November 2017 and we're expecting a very good turnout.  All of our talks so far have contained a theme of "of now" technology subject matters, and this one is adheres to that too. Our talks aim to examine the increasing careful balance required between "freedom and efficiency" that modern technology provides to us.
VR & The Evolution of Military Gaming: https://events.bcs.org/book/2659/
John Curry will provide a history of military simulation, an introduction to games based technology and Tom Ball will discuss using Mixed reality technology in the live environment and what is either available now or shortly will be.  There will also be a demonstration of the latest Close Air technology available.
The session will run from 7-9pm, with with talks beginning at 7.30pm, followed by Q&A, with networking and drinks to finish. This BCS event is free of charge, but requires registration to ensure there are no capacity restrictions.
Venue: Bristol & Bath Science Park
Speakers: Tom Ball & John Curry
Event Breakdown: 
7.00pm Refreshments
7.30pm Main Talk
More information about the speakers:
Tom Ball Technical Director, Close Air Solutions
Close Air Solutions is a company that delivers Military Joint Fires Capabilities, and is outcome not product focused. It specializes in combining Military Expertise and Technical Expertise in integrating the best of breed software, hardware, and instructional techniques to meet customer capability requirements. Tom Co-founded the company in 2012 after a 14 year career in the Royal Air Force as a Operational Tornado Strike Attack Pilot and Joint Fires Instructor. In the latter part of his RAF service, he specialized in using off the shelf simulation products, and bespoke instructional techniques to solve training problems he encountered during his instructional duties. He was recognised in the Queen's Birthday Honours for delivering better trained personnel at a lower cost due to savings in flight hours. Tom co-founded Close Air Solutions in order to continue the innovation in simulation; creating an international training offering in the complex and politically sensitive area of Joint Fires. The aim is to reduce unnecessary loss of life on the battlefield by providing more competent personnel to commanders.
Close Air Solutions is a leading innovator in the military training space, having won two Centre for Defence Enterprise Challenges in the area of Defence Operational Synthetic Training with a Mixed Reality Concept training system called Hyper Real Immersion (HRI). The vision is to provide users with a convincing view of a correlated synthetic world without disrupting their view of the real world. With this system it is possible to go outside into the natural environment, observe all of the real environment uninterrupted, but on top of this to experience a synthetic environment rich with photorealistic real-time controlled moveable objects (People, Buildings, Vehicles) that appear to obey the laws of the natural world. This will provide a more immersive, and relevant experience to the end-user than is possible using traditional training in a simulator.
John Curry Senior Lecturer, Bath Spa University.
John Curry is a senior lecturer in games development at Bath Spa University. He has an international reputation in conflict simulations/ serious games and authored/ co-authored/ edited more than 80 books in the field. He spends his professional life playing games and developing new ways of gaming cyber-attack. He has played games on a wide range of topics from pandemics to international crises. He is also currently with a London based company, Anquan, on running cyber exercises for senior managers of key companies in the City of London. A summary of his job could be, "playing strange games, with strange people in strange places".
Please book your place here: https://events.bcs.org/book/2659/