January 21, 2017
Posted by:

Lloyd Skinner

Category:

BCS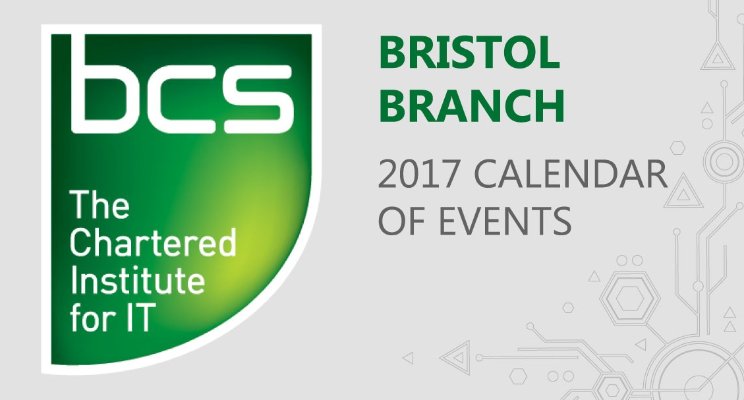 Modern Technology: Balancing Freedom and Efficiency
1st. Talk Machine Learning & AI – Wednesday 1st. March, Engine Shed, Bristol
BCS, The Chartered Institute for IT, is "committed to making IT good for society. We use the power of our network to bring about positive, tangible change."
The Bristol Branch has put together a programme of talks for 2017. The talks are about "of now" technology subject matters and have an underlying theme to examine the increasing careful balance required between "freedom and efficiency" that modern technology provides to us. Most talks will be delivered by dual representation sometimes from a commercial and academic background. In general, the format is a monthly talk running from 7-9pm whereby the first hour will be talks including Q&As, followed by networking / drinks.
All talks and follow on catering are free of charge but will require registration to ensure there are no capacity restrictions.  The BCS talks are currently scheduled to be held in various locations throughout Bristol as this is where the majority of members are located.  It is hoped the talks will appeal to both existing and new members, young and old and broadly, technical and non-technical. Current scheduled topics include: Machine Learning & AI, Robotic Ethics, Internet of Things, Driverless Vehicles and not forgetting VR!
The first talk is scheduled for Wednesday 1st. March at the Engine Shed and will be undertaken by Nigel Toon from Graphcore and Professor Jim Smith, Head of Artificial Intelligence Research Group, UWE – Their brief biogs can be found below. The talk on Machine Learning & AI (Artificial Intelligence) will examine how the capability of the underlying technology is rapidly increasing and what this could mean for potential applications and the impact on people.
I do hope you can attend the talk – please register using the following link :
http://www.bristol.bcs.org.uk/?q=node/231
Any Queries Please contact Lloyd Skinner at [email protected]
Speakers Biogs:
Nigel Toon is co-founder and Chairman & CEO of Graphcore Ltd. Graphcore is a new silicon and systems company based in Bristol, UK and Palo Alto, USA that has developed the Intelligent Processing Unit to accelerate machine learning and AI applications. Nigel was CEO of two VC-backed silicon companies before founding Graphcore; Picochip, which was sold to Mindspeed in 2012 and most recently, XMOS, in which Graphcore was incubated for two years before being established as a separate entity in 2016. Before that he was co-founder of Icera, a 3G/4G cellular modem chip company, where he led Sales and Marketing and was on the Board of Directors. Icera was sold to NVIDIA in 2011 for $435M. Prior to Icera, he was Vice President and General Manger at Altera Corporation where he spent 13 years and was responsible for establishing and building the European business unit that grew to over $400m annual revenues. He is the author of 3 patents, and chairman of the Board of Directors at XMOS Ltd and a non-executive director at Imagination Technologies PLC.
Professor Jim Smith is Professor of Interactive Artificial Intelligence at the University of the West of England (UWE). After taking an MA.in Electrical Sciences from Cambridge University, he worked in various industrial sectors before returning to academia at UWE, where he took his PhD and now leads the Artificial Intelligence Research Group.  He has published extensively on many aspects of theoretical and applied Artificial Intelligence, works which have been cited over 8000 times and have won awards such as the 2001 ACM-SIGEVO prize for papers which are 'deemed to be seminal'.  He has led a number of successful projects concerning the hybridisation of metaheuristic approaches with machine learning, and mathematical approaches funded by the EC, EPSRC, governmental agencies from the UK, US and Brazil, and commercial partners.
Recently his research has increasingly focussed on collaborative human-machine problem-solving, and how machines can deal with the fact that people are not oracles", but rather are fallible, prone to fatigue and distraction, and are themselves adaptive – often changing their judgements or opinions as their experience changes.
Here's a little taster of just some of the great resources we at Greyfly share for your information but apply to our approach.  If you'd like to See the Wood from the Trees, get in touch by emailing: [email protected]