May 17, 2017
Posted by:

Lloyd Skinner

Categories:

BCS, FinTech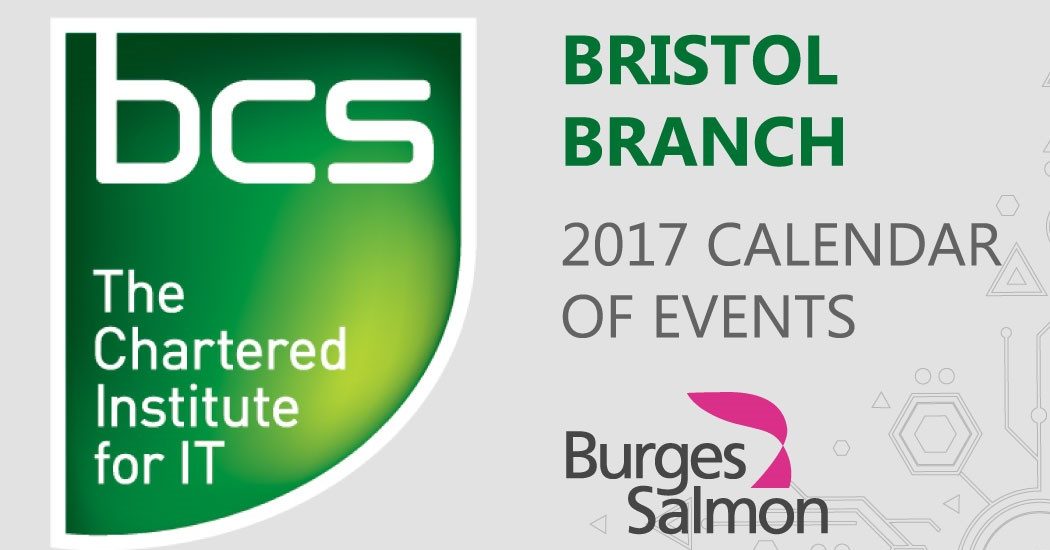 Technology & Innovation: Balancing Freedom and Progress
Talk 3: FinTech – Wednesday June 7th, Registration 7pm, Burges Salmon, Bristol
BCS, The Chartered Institute for IT, is "committed to making IT good for society.  We use the power of our network to bring about positive, tangible change."
After full houses for the first 2 talks, the Bristol Branch is pleased to announce Talk 3 in the 2017 programme of talks.  The talks continue the theme about "of now" technology subject matters and have an underlying theme to examine the increasing careful balance required between "freedom and efficiency" that modern technology provides to us.  This talk will be delivered by three representatives with varied experiences.  The format of the talk will run from 7-9pm whereby the first hour or so will be talks including Q&As, followed by networking / drinks.
All talks and follow on catering are free of charge but will require registration to ensure there are no capacity restrictions.  The BCS talks are currently scheduled to be held in various locations throughout Bristol as this is where the majority of members are located.  It is hoped the talks will appeal to both existing and new members, young and old and broadly, technical and non-technical.  Current future scheduled topics include: Internet of Things, Super Computing, Block chain and not forgetting VR!
The next talk is scheduled for Wednesday 7th June at the Burges Salmon Bristol office and will be undertaken by Adrian Shedden Head of Fintech at Burges Salmon, Dave Tonge CTO at 'Moneyhub Enterprise'and Charles Radclyffe, a FinTech practitioner currently consulting for Deutsche Bank's innovation function at dbLabs.  Their brief biogs can be found below. The talk on FinTech will examine how regulation could be changed for the good and how user experience lets you push boundaries of the technology.
I do hope you can attend the talk – please register using the following link
http://www.bristol.bcs.org.uk/?q=node/234
Any Queries Please contact Lloyd Skinner at [email protected]
Speakers Biogs:
Adrian Shedden – Head of Fintech, Burges Salmon
Adrian leads Burges Salmon's cross-departmental fintech and regulated lending practices and is a senior associate in the firm's funds and financial regulation team.  Adrian has experience advising financial institutions, high net worth individuals, start-ups and major private and public companies in relation to regulation in the following main areas:
fund and asset management
retail finance, mortgage and consumer credit
payment services and electronic money
virtual currencies and decentralised ledger technology
regulatory disputes.
Adrian is heavily engaged with the fintech sector. He is a mentor on the Barclays Techstars Accelerator and together with the Burges Salmon fintech practice has been assisting the FCA with its regtech call for input and engaging with R3 CEV and stakeholders on smart contract templates.
Adrian qualified as a solicitor in England and Wales in 2009 and is an alumnus of the University of Bristol and University of West England.
Dave Tonge – CTO at 'Moneyhub Enterprise'
Dave is a member of the Open ID Foundation working on open standards for financial APIs and is the technical representative for the Financial Data and Technology Association(FDATA). He also represents FDATA within the Financial Conduct Authority's (FCA) PSD2 Stakeholder Group as well as working with the Open Banking Implementation Entity to define the standard for UK Banking APIs. At Moneyhub Enterprise, Dave leads the team of Software Engineers, QA Engineers, UX Architects and Systems Administrators to deliver the best personal finance management solutions on mobile devices and across the web, for businesses to share with their customers.
Charles Radclyffe – FinTech practitioner
Charles is a serial entrepreneur who has built and sold three FinTech and AdTech companies, and passionately supports and mentors young entrepreneurs and start-up teams.
In addition to providing advisory services to companies on their Data Analytics strategy, he is an experienced public speaker on topics relating to Smart Devices, Data Science, and Artificial Intelligence.
Charles holds an MA in Law from Cambridge, and his hobbies include golf, motorsport, science fiction and early modern history.  Charles currently serves as the Head of Technology for the Innovation Function at Deutsche Bank in London, dbLabs
Here's a little taster of just some of the great resources we at Greyfly share for your information but apply to our approach.  If you'd like to See the Wood from the Trees, get in touch by emailing: [email protected]