May 25, 2017
Posted by:

Lloyd Skinner

Category:

BCS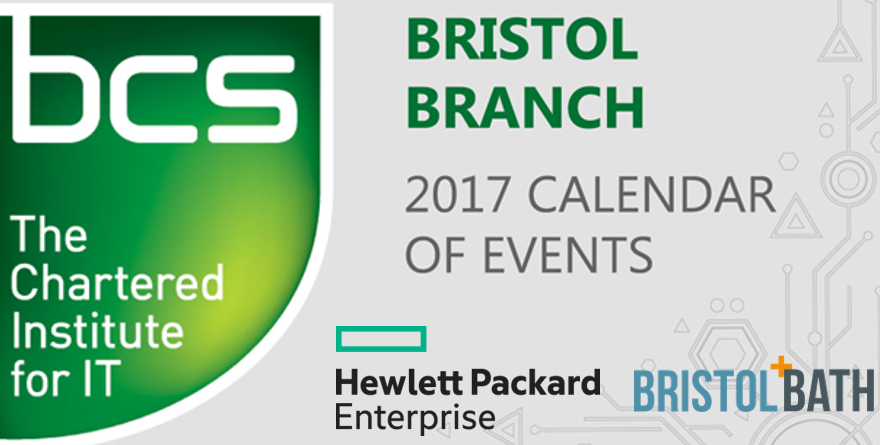 Booking form: http://www.bristol.bcs.org.uk/?q=node/235
#bcsbristol #businessplanning
Technology & Innovation: Balancing Freedom and Progress: Internet of Things (IoT) & the Supply Chain
Wednesday June 21st, Registration 7pm, Hewlett Packard Enterprise (HPE), Filton Road, Bristol BS34 8QZ
BCS, The Chartered Institute for IT, is "committed to making IT good for society. We use the power of our network to bring about positive, tangible change."
After the success of the first 2 talks and the preparation complete for Talk 3, the Bristol Branch is pleased to announce Talk 4 in the 2017 programme of talks. The talks continue the theme of "of now" technology subject matters and examine the increasing careful balance required between "freedom and efficiency" that modern technology provides to us.
The focus of Talk 4 will be on IoT and Supply Chain and will take place on Wednesday 21st June at the Hewlett Packard Enterprise (HPE) Bristol office. This talk will be delivered by three representatives with varied experiences. – Professor Glenn Parry (UWE Business School), Dr Carl Shaw (founders at Cerberus Security Laboratories Ltd) and Georgina Graham (Senior Associate at Osborne Clarke Legal practise). Their brief biographies can be found below.
The talk will examine how new technology is pushing the boundaries of value, how security is often forgotten within the IoT arena and the challenges that arise by the regulatory framework for data protection and privacy when applied to the Iota ecosystem.
The session will run from 7-9pm, with an hour of talks from our panel, followed by Q&A, with networking and drinks to finish.
The event is free of charge, but will require registration to ensure there are no capacity restrictions.
The BCS talks are scheduled to be held in various locations throughout Bristol, where the majority of members are located. The talks aim to appeal to both existing and new members, young and old, and broadly technical and non-technical. Future topics include: Supercomputing, Blockchain and not forgetting VR!
I do hope you can attend the talk – please register using the following link
http://www.bristol.bcs.org.uk/?q=node/235
Any queries, please contact Lloyd Skinner at [email protected]
Here's a little taster of just some of the great resources we at Greyfly share for your information but apply to our approach.  If you'd like to See the Wood from the Trees, get in touch by emailing: [email protected]