June 7, 2018
Posted by:

Lloyd Skinner

Category:

Risk Management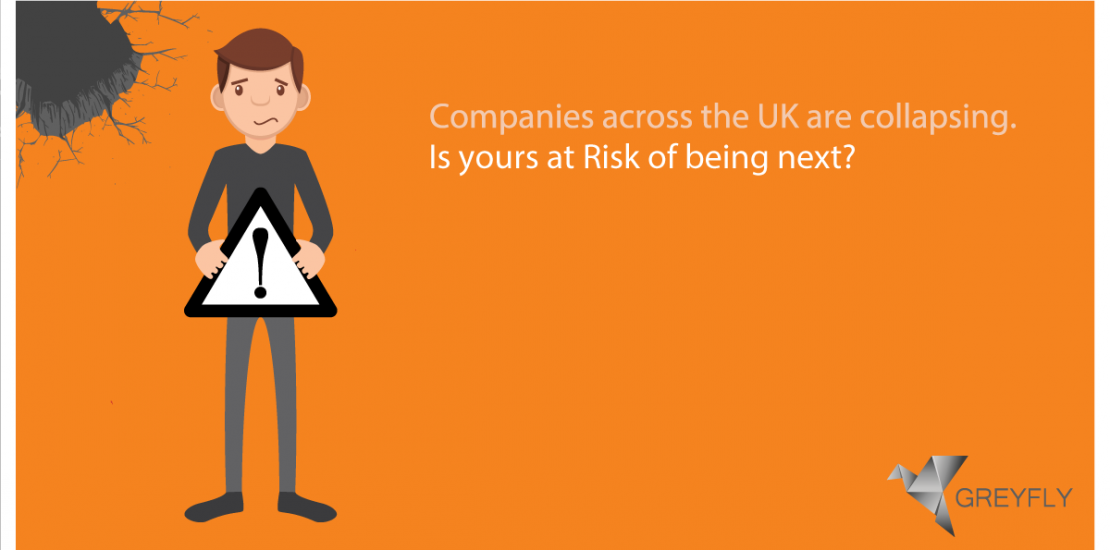 Back in January we heard that Carillion was due to collapse under the weight of a debt pile of £1.5tn.
Since then it seems we can't go a week without another major brand coming to its knees. Toy R Us, Homebase and Maplins have all had to be bought out for nominal sums to stop them from disappearing completely.
So, what happened? And what can businesses learn from these failings to make sure they're not meeting the same fate?
Whilst each of the companies above have their own story of woe to tell as to how they got into their situations – there are a few recurring themes that I'll be looking at.
In this article I'll once again be talking about the benefits of robust project management and how this can be implemented into effective business management. Focusing this time on how risk management can be used to make sure you don't end up like the guys above.
Firstly, what is risk mitigation?
Risk mitigation is about analysing risks to your business, assessing their impact, defining an action plan and then tracking the actions to make sure they either don't come to light or the impact is minimised and managed by the business without creating a material impact.
Whilst not the most exciting part of running a business, I would go out on a limb and say it's one of the most important.
Whatever the size and shape of a business, there are going to be risks. And these risks need to be clearly defined, analysed, mitigated and monitored to ensure longevity.
So, what went wrong?
For all of the above companies – the recurring theme is lack of contingency planning.
None of them had a robust risk management strategy to be able to identify and mitigate their business risks.
If we take Carillion for example – they were continuing to take on huge projects with minimal profit margins – even when other projects were over-budget and behind.
This would never have happened if they were keeping a better eye on their risks.  The impact of taking on these projects would have been suitable analysed and the board would have realised that they were a big no-no.
What can you do to create a robust risk strategy?
In theory, risk mitigation should be pretty easy – you find the risks most likely to appear and you try and reduce either the likelihood of them happening or the impact if they did.
But in practise this process is a whole lot murkier. Assessing risks isn't an exact science and balancing resource to focus on mitigation vs detection and everyday business operations can be tricky.
There is also not a 'one size fits all' approach that works with risk management. Every company is different and will be vulnerable to different macro and micro risks in varying degrees.
The key to a robust strategy is to understand that it is never finished.  From the boardroom down, risks need keep being talked about so you are on the front foot.
Granted, it's not as nice as talking about your increase in sales or winning that new contract. But, in terms of longevity, it is far more important.
Finding the right people for the job
There's also a mix of the level of qualifications that prospective candidates have within risk management.
It can be hard to feel comfortable that you have the best person or team in for the job.  There are some ways that can be managed though, and that's through professionalisation.
What is professionalisation?
Professionalisation looks to make sure that those within a certain occupation are acting with the highest integrity and competence.
When you have a complex discipline such as risk management which deals in uncertainty – it can be hard to professionalise it. There may be those out there who call themselves experts in the field, but don't have the credentials to back it up.
But, the Institute of Risk Management (IRM) have a number of certifications that employees can gain to make sure that they are up to date with the latest teachings and innovations in the risk mitigation space.  As with risk management, professionalisation is on-going and should never been seen as 'done'.
Early warning systems
As well as making sure you have a solid risk management strategy and a great team to deliver it – you should also look into having an "early warning" reporting system in place.
You may have heard of an early warning system when it comes to detecting natural disasters – but it is also an incredibly useful tool for businesses.
With an early warning system your employees will be able to quickly identify and communicate emerging risks before they have a material effect on your business.
You can look to create certain trigger points that let colleagues know about impending risks and then have strategies in place of how these are communicated and dealt with as a business.
Getting started can be the hardest part of  so please use our free tool to help you make that first step' remove the rest.