August 2, 2023
Posted by:

Sang Le

Categories:

A.I., AI in Project Management, Project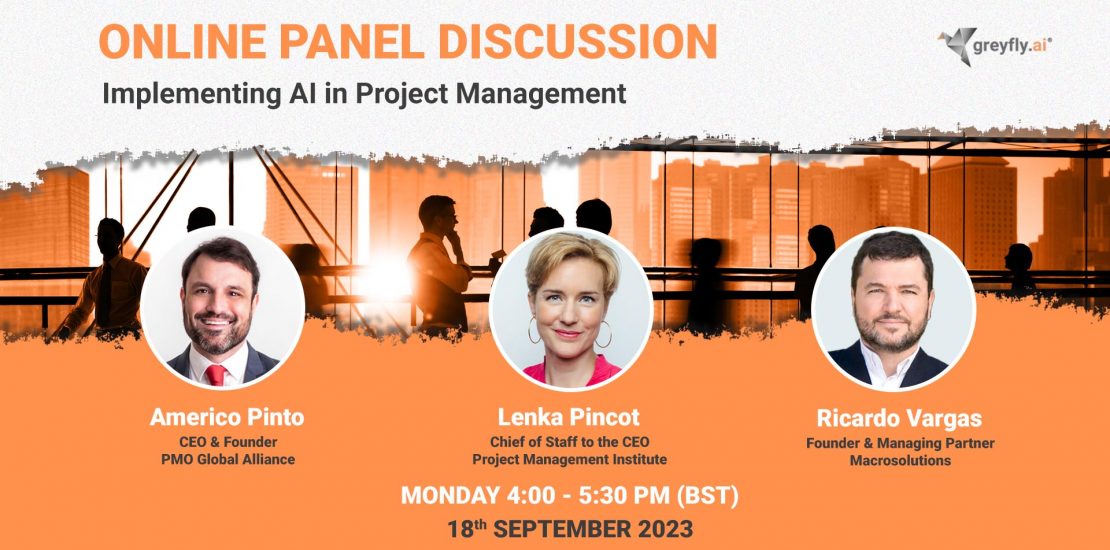 Discussing the impact of project and data maturity in implementing AI in project management
In our 3rd panel, global Project Management industry experts will discuss the impact of project and data maturity on implementing AI in project management. Furthermore, we will hear how established project processes and high-quality datasets significantly enhance AI effectiveness, in turn how that may optimise project outcomes. You will gain valuable insights into how mature project capabilities and data-driven approaches have revolutionised project management through AI. Whether you are a senior project executive or responsible for project delivery, this discussion will provide valuable knowledge and practical strategies to harness AI within Project Management.
Register for the event here.
We will discuss:
Introductions
What is AI in Project Management?
Impacts of data and project maturity on AI in project management success
What do businesses need to do before implementing?
Poll
Examples
Q&A
Single take-away
Our Panelists include:
Americo Pinto, an accomplished project management professional, boasts 25+ years of diverse experience as an executive, international consultant, speaker, professor, researcher, and author. Having contributed to esteemed organizations like Deloitte, Noorden Group, Arthur Andersen, and Compass International, Americo's impact is profound. As Founder and Chair of the board at PMO Global Alliance, he spearheads the world's largest PMO community. Awarded the PMI Distinguished Award in 2011, Americo is an active PMI member since 2001. He has influenced global audiences through keynote speeches at major conferences and led a multinational team that developed the renowned PMO Value Ring® methodology. With three authored books, numerous articles, and chapters in influential project management texts, he continues to make an indelible mark. Presently, Americo is pursuing a doctoral degree at Rennes School of Business while holding esteemed credentials like PMP, IPMA-A®, PMO-CP®, and PMO-CC®.
Lenka Pincot is a senior executive, renowned for her international expertise and a proven history of developing and implementing strategic visions. Her forte lies in spearheading digital transformations and fostering organizational agility. With a diverse background spanning banking, manufacturing, distribution, and automotive industries, Lenka has successfully led strategic initiatives. Presently, she holds the esteemed position of Chief of Staff to the President at Project Management Institute (PMI), a global not-for-profit organization that empowers professionals involved in projects and transformations with education and career support. Lenka's credentials include a Digital Excellence Diploma from IMD Business School, completion of the C-level School organized by European Women in Boards, an MSc in Computer Sciences, and various global certifications in project management, agile practices, and business analysis.
Ricardo Vargas is a leader with extensive expertise in global operations, project management, business transformation, and crisis management. He is the Founder and Managing Director of Macrosolutions, an internationally acclaimed consulting firm specializing in energy, infrastructure, IT, oil, and finance. Over the past 25 years, Ricardo has effectively overseen more than $20 billion worth of international projects. As the former chairman of the Project Management Institute (PMI), he has left a lasting impact on the industry. Ricardo's contributions extend to the creation and leadership of the Brightline Initiative from 2016 to 2020, as well as his role as the Director of Project Management and Infrastructure at the United Nations, where he successfully managed over 1,000 projects in humanitarian and development fields. An accomplished author with 16 published books, he has delivered 250 keynote addresses across 40 countries. Additionally, Ricardo's "5 Minutes Podcast" has garnered an impressive 12 million views. His academic background includes a Ph.D. in Civil Engineering, a Master's in Industrial Engineering, and an undergraduate degree in Chemical Engineering.