January 27, 2020
Posted by:

Sang Le

Categories:

A.I., BCS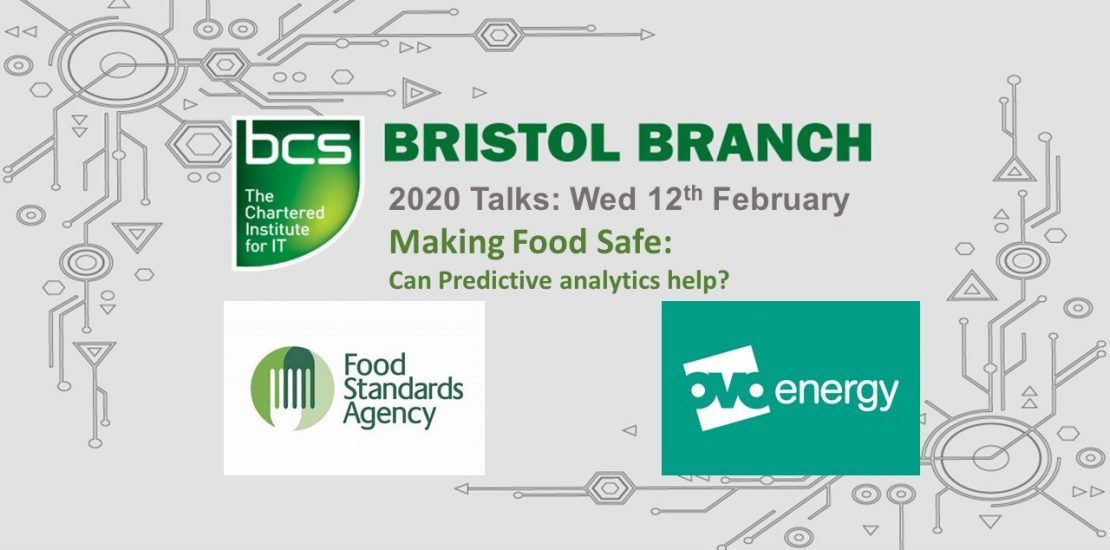 Wednesday February 12th 2020. Registration 6.45pm @ OVO Energy Ltd. 1 Rivergate Temple Quay, Bristol BS1 6ED
After the success of previous talks, we are pleased to announce a further BCS Talk. BCS, The Chartered Institute for IT, is committed to making IT good for society. We use the power of our network to bring about positive, tangible change. This talk is supported by OVO Energy Ltd. and the Food Standards Agency.
The talk will discuss whether predictive analytics can help to make Food Safe and will be delivered by Julie Pearce. Julie is the Director of Openness, Data and Digital and Wales at the Food Standards Agency.
The UK food system is important to all of us, actively participating 3 times a day. It is also critical to the UK economy. Half the food we eat is imported, and supplied to us through very complex supply chains. The actors include huge multi-nationals like Unilever through to hundreds of thousands of micro businesses – people who probably don't realise they are a food business as they sell their home made cupcakes on Facebook, or the prisons and hospitals who feed us when in troubled times.
So, how can we predict the risk through all of that? Whether looking for issues happening here and now in the kebab shop down the road through to predicting the impact of climate change on food. We are using data, much of it open data, and open algorithms, to produce valuable insights and predict where the risk lies. We have taken a very agile approach: We take real life business questions and run the question through a standard 10 week sprint. We progressively build up the level of sophistication, linking more and more data sets together, and working in nearer real time. We have been using machine learning. We are now investigating AI to predict which food businesses pose the greatest risk to consumers and so the authorities need to pay them greater attention.
The session will start with registration at 6.45pm, with pre-talk networking and refreshments, talk starting at 7.30pm, lasting approx. 45mins, followed by Q&A, with time allowing further networking and drinks to finish by c.9pm. More details on the talks can be found on the Bristol BCS website.
The event is free of charge, but will require registration to ensure there are no capacity restrictions. The BCS talks are scheduled to be held in various locations throughout Bristol, where the majority of members are located. The talks aim to appeal to both existing and new members, young and old, and broadly technical and non-technical. The content of future topics are being investigated based on feedback from previous events and we are open to talk volunteers.