January 20, 2021
Posted by:

Sang Le

Categories:

A.I., Achievement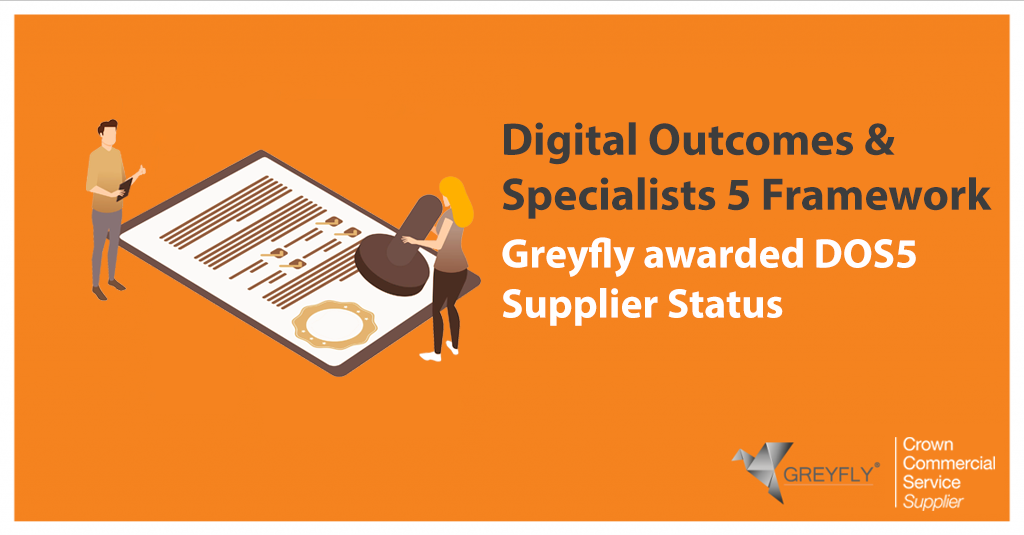 Greyfly is already an approved Crown Commercial Supplier for Government Cloud Framework, we are delighted to confirm we are now Digital Outcomes and Specialists Framework Suppliers. This means we can supply consultant resource to Government & Public companies to support project delivery and performance.
Following our success in this sector, Greyfly applied for the Digital Outcomes and Specialists 5 (DOS5) Framework. Starting from Jan 20, 2021, Greyfly are able to provide project consulting services directly to any government and public body. Both our Greyfly Intelligent Project Prediction Tool and project consulting services can be found on the Government Digital Marketplace. This is another step forward in our business plan where we are focusing on transforming project delivery in those sectors with high risk of project failure.
What is Digital Outcomes and Specialists?
Similarly to the G-cloud Framework, it is a list of suppliers who are verified and meet the requirements to trade with businesses in the government & public sector. A digital marketplace where these verified venders and buyers can sell or procure services without the need of complicated tender approval process.
The UK government planned to use this platform to help public sector companies to acquire the needed services easier, reduce the cost and effort as well as encourage businesses to enter this market and more commercial transactions can happen.
The framework is managed by Crown Commercial Services (CCS) who supports the public sector to achieve maximum commercial value when procuring common goods and services. In 2018/19, CCS helped the public sector to achieve commercial benefits worth £945m – supporting world-class public services that offer best value for taxpayers.
What does this mean to Greyfly?
Specifically, Greyfly is awarded the 2nd lot of the framework, which is a Digital Specialist, this means the provision of specialists consultants e.g. project managers. Combined with our existing G-cloud framework status, we can now offer this complementary service to project prediction tools. It removes regulatory barriers to fully support public companies in project delivery.
About Greyfly
Greyfly have experience in successfully delivering full life-cycle, benefits lead, multi-million pound transformation projects and are preferred suppliers to the BBC for programme management. However, our real passion is applying AI to project management to improve delivery, tackle the real project delivery problem and make cost savings for our clients. For almost 30 years Greyfly has built its reputation by delivering solutions to the toughest project challenges with a collaborative approach to deliver rapid, high quality results at an affordable price – and now using the latest in AI tools and techniques.